Lakeville stables celebrates two horses
From the outside, Golden Ridge Stables looks like many of the other farms in Lakeville.
The barn is filled with stalls that hold its 34 horses. Three cats named Milo, Joe Meow-er and Amego roam around the horses and people comfortably. In the center of the stables is a large show area, where they hold two fun shows a year.
Owner Ann Hoffmann makes sure their location is much more than a place to ride horses. She spends her days working with her staff to ensure each student and horse gets the most out of their learning experience.
Two special attractions at Golden Ridge are its two 30-year-old horses. Batman and Pedro were treated to a birthday party with carrot cake, games and songs.
According to Hoffmann, it's a tradition for horses to have their birthdays on Jan. 1. Pedro and Batman both turned 30 years old at the beginning of the year. The average life expectancy of a horse is 25 years old and anytime a horse ages past that is unusual. "It's really unusual to have two 30-year-old horses in the same place," Hoffmann said. Batman came to the ranch from a family seven years ago. He attends approximately five or six horse shows every year and is a well behaved school horse. According to Hoffmann, they named him Batman because they originally believed he was born in 1989, which is the same year "Batman" won an Academy Award.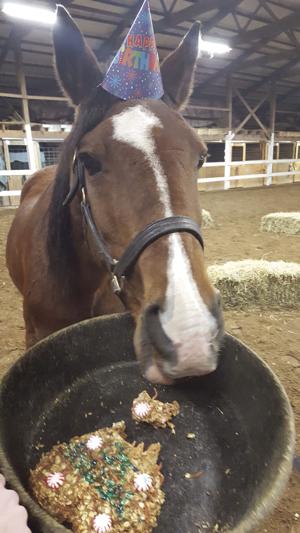 Pedro is the favorite horse to ride among the kids. Hoffmann says it's because he has a quirky attitude and has the personality of a younger school horse. Pedro came to the stables a couple years ago when they received him from the Minnesota Hooved Animal Rescue. Before coming to Golden Ridge, Batman was shown in a lot of shows and is now a very good school horse. Pedro's previous owner moved him to Arizona every summer but at the age of 28 he could no longer make the trip back and forth. "Pedro is hands down everyone's favorite school horse to ride. He has a lot of personality. He doesn't know he is 30 and has a lot of get up and go," Hoffmann said. Batman and Pedro are school horses, which means they help kids and adults learn to ride. Students then will go to a show to show off their skills with their horse in hopes of winning a blue ribbon.  "Sometimes school horses will do their job even if the child has forgotten everything they've learned. A good school horse is priceless," Hoffmann said.
"We always tell them you want to your ride to be better than your last. It's not about the ribbon," Hoffmann said. "What equals success is that they had a good ride, they felt good about it and each ride gets better. We believe that if you have a good ride, the ribbon will follow."
Golden Ridge offers summer camp and riding lessons for children and adults. They also work with community education, Girl Scouts and the Parks and Recreation Department. They are also participating in the Activities and Sports Festival on Feb. 24 at Kenwood Trail Middle School.
Hoffmann grew up in Apple Valley and has always been around horses. Her family bought Golden Ridge 32 years ago and has spent that time taking care of each horse while she teaches children everything she did. "I love horses and I like taking care of them," Hoffmann said. "I think it's cool to see a kid have that light bulb moment. … I like that all of us get to share our passion." Hoffmann also enjoys her work because she knows that riding is a life sport and says you can do it when you're into your 80s. "Horses are kind and intelligent. They just make you feel good. If you have a good ride, it's good for the soul," Hoffmann said.
Golden Ridge Stables is located at 8315 190th Street W., Lakeville. More information can be found at http://goldenridgestables.com.
Article written by Kayla Culver – SUN Thisweek.  2/2/2018